the mountains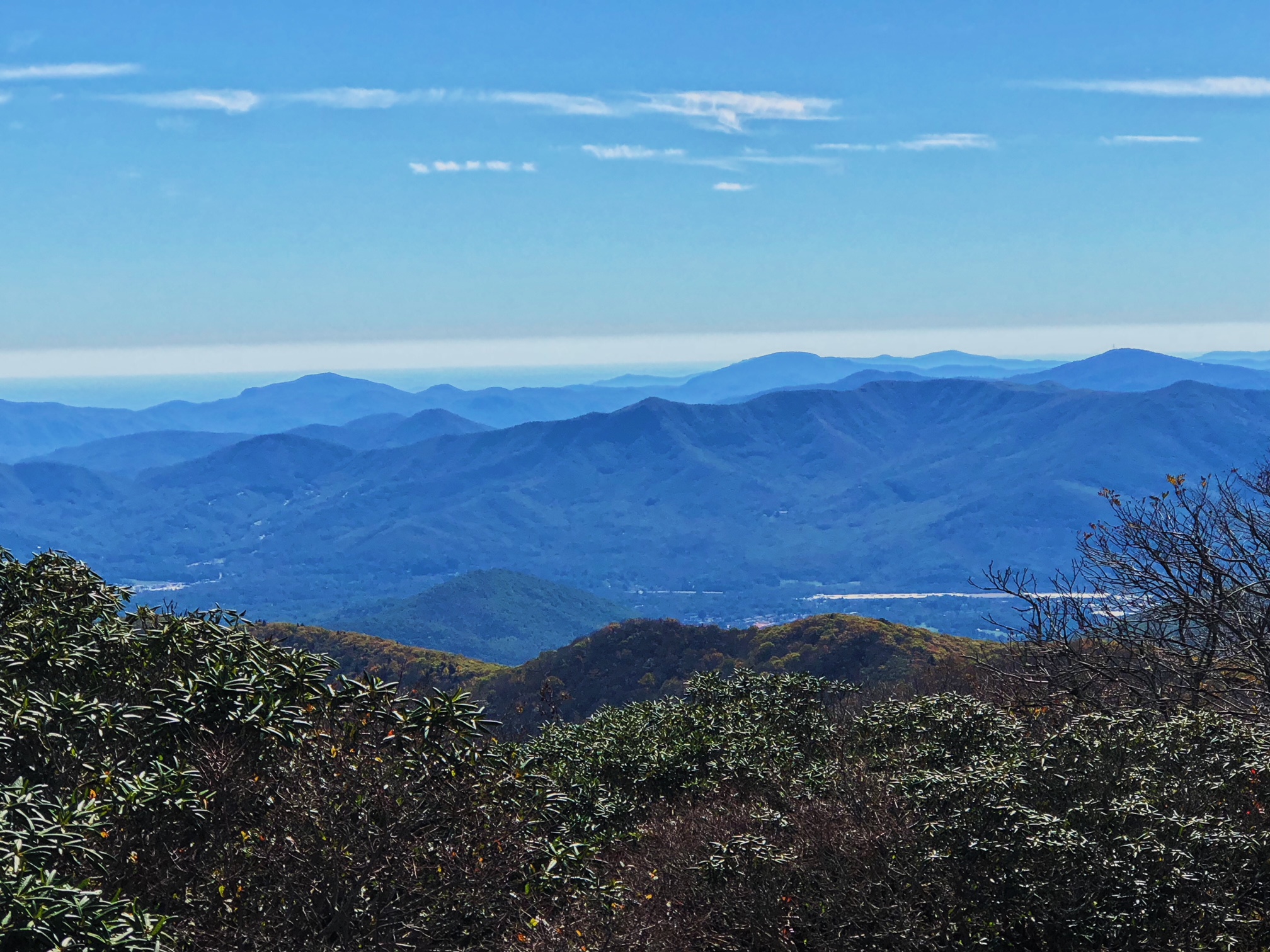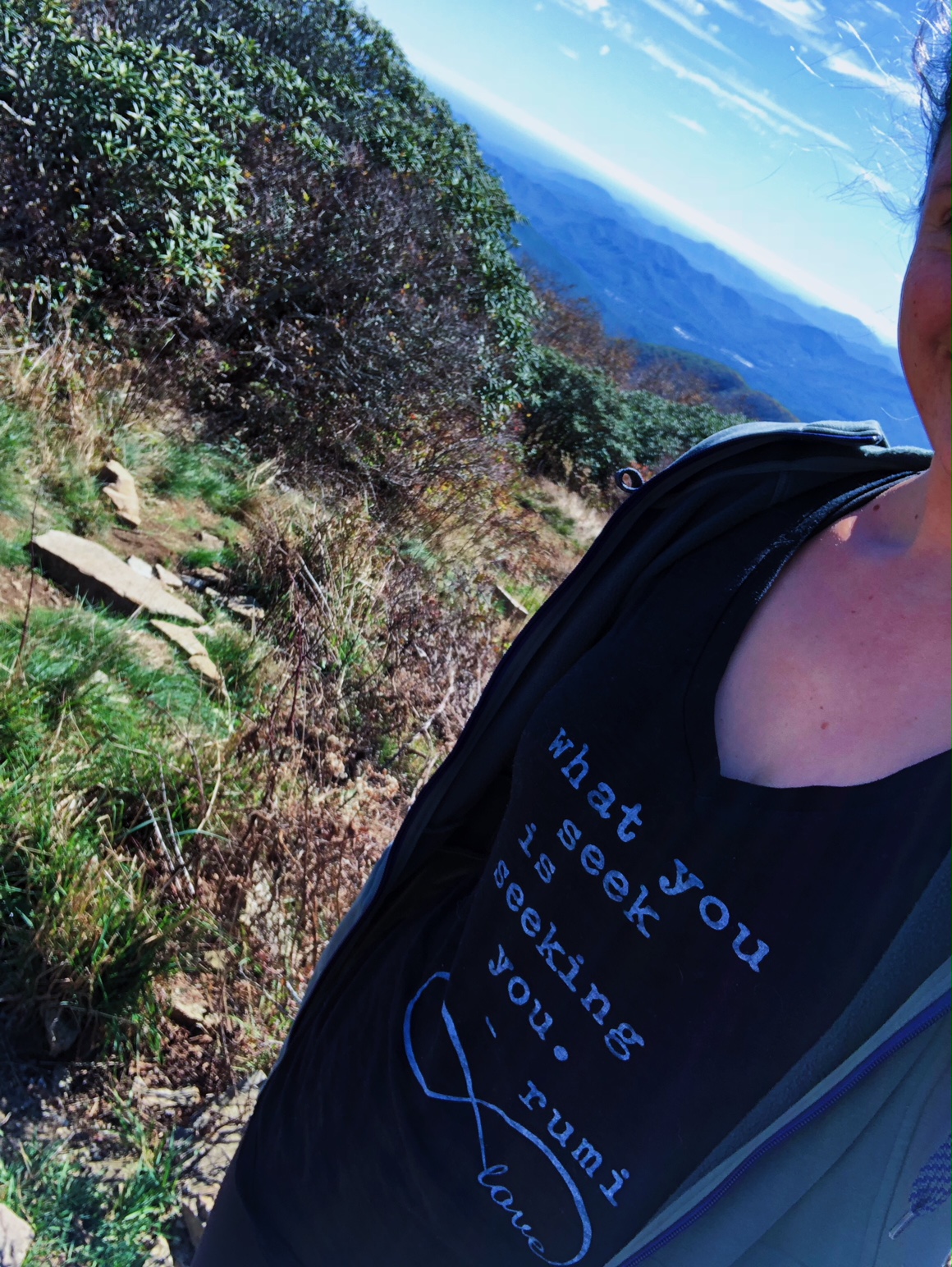 If you didn't know, the mountains have my heart. This probably isn't widespread knowledge, but around this time of year when the leaves change, I start getting antsy to head west. My husband seemed a bit surprised by my urgent need for the mountains because I guess I haven't shared this with him (or anyone really) before. And to be honest, maybe I didn't know it existed until my last trip in February.
It was a random trip whose genesis was sensory deprivation. My roommate Tom and I were talking about float therapy and he found a location in Asheville, so *poof* we went to Asheville for a weekend of floating, waterfall hikes (for me, mountain biking for him), and excellent food / beverages. It wasn't until my hike that I realized why my soul feels so damn calm in the mountains (and also in exceptionally large cities like Manhattan- but that is for a different post after my trip next month). I love feeling safe and hidden nestled between the trees. This probably makes me sound like a fugitive, but living in a small town, or going to an Isagenix event where I have a team and am 'on' and visible, takes a good bit out of me. That is not to say that I don't love running into friends when I'm at the coffee shop or have events with the exceptional men and women on my team; I just now recognize what I need to give myself so that I can give others more. You know that whole analogy of not being able to pour from an empty cup? Yeah, my cup's empty. I'm not whining because I'm busy or successful (how f#cking annoying would that be). I'm grateful as hell because I have this beautiful freedom to pick up and GO. But I have been on a constant journey to figure out W-H-Y I need this time. Everyone knows I'm an introvert. But cool, so are like a kajillion other people. But I want to know why it feel so damn good for me to be in silence. Standing on the top of Craggy Mountain it was silent. Literally. I tried to hear something -a bug, wind, leaves rustling- and nothing. It was sooo restorative, which (surprise surprise) is my #3 strength. I laughed out loud when I wrote the word restorative because I finally made the correlation. I'll thank the creative benefits of float therapy for that breakthrough. I could talk around this subject for hours but will bore the hell out of 99% of y'all. If you're the 1%, lets get wine and chat, clearly you're my kind of person.
I also have another annoying embroidered throw pillow saying to toss into this post: The best views come from the hardest climbs (or something like that). Well, I found that to be false af. Being short of time, I drove along the Blue Ridge Parkway until I saw a spot to park, hop out and then saunter up the rest of the mountain. So this chick did a total of 2 miles worth of climbing, but the views were spectacular and (as aforementioned) silent. I also realized that portrait mode on my phone is just the best and took a bunch of photos like I was some legit photographer and knew what the hell I was doing. I spent a solid 2 hours wandering around and taking photos on the BRP, but then had a highly anticipated date with a couple of hundred gallons of 30% concentrate epsom salt water.
And I could also go into float details, but that post about sensory deprivation therapy is over in the 30 day reset portion of my website. I had a completely different float than what I've experienced before. Expectation management is crucial for survival in just about everything. And I was pleased to see that floating is no different. I couldn't vacate my mind this time , but still, it was extremely satisfying. I then drove my zen ass downtown to grab dinner. Because this trip fell under the 'treat yo self' catagory, I ate at Posana's. Just shimmied up to the bar and let the extremely capable bartender pick everything for me. Buh bye control. I was chill af and just wanted to eat all the things. That chill Christin was also the one who realized it was almost bedtime and I had nary a bed to lay my blissed out head. But, as these things always do, it worked out.
I made the spur of the moment decision to hop back into the float tank before heading back home (I couldn't stay longer because I had a plane to catch the next morning). A quick 60 minutes float was awesome and again, completely different than the previous three. I will say that I basked in the chaos of my mind and it led me down some fascinating mental rabbit holes with some tears and acceptance. Again, those things are best shared over wine and perhaps an assorted cheese plate. I took the fabulous coffee shop suggestion and of course was not disappointed (I don't think anything could have rained on my parade) and hit up a local biscuit joint because, duh, treat yo self.